Downpatrick Co-Op Mart Machinery Auctions
No live auction is currently running. Please check back later
Auction Dates
Next sale date to be announced
Please note:
- Live streaming is supported on latest version of Microsoft Edge, Google Chrome, Firefox web browser on desktop computer and mobile devices. If you are having issues, please try one of the supported browsers
- If your mobile is not registered with Downpatrick Co-Op Mart Machinery Auctions, please call Downpatrick Co-Op Mart Machinery Auctions on +44 28 4461 5522 to set you up for online bidding.
- If you experience any technical issues or have any feedback for the system, please contact Downpatrick Co-Op Mart Machinery Auctions and also let us know via email at ContactUs@lslauctions.com
Terms & Conditions
Important
Downpatrick Co-Operative Marketing Ltd (DCML) Terms and conditions.

- All items sold as seen unless otherwise stated by the Auctioneers.
- All bidders are deemed to have satisfied themselves by inspection or otherwise as to the description, size or quantities of any lot.
-Value Added Tax: VAT at the standard UK rate of 20% will be added to the hammer price on all Lots unless the Lot information states otherwise. The zero rating of items purchased is also subject to DCML receiving the required proof for this request.
- Commission will apply to the hammer price as follows
1. Commission rate of 10% plus 20% VAT applies to all items up to £500 in value
2. Commission rate of 5% plus 20% VAT applies to all items in excess of £500
3. Minimum commission charge of £5 per item and a maximum charge of £500 per item.

Viewing: Auction items can be viewed on farm at 53 Lissoid Road Downpatrick Co Down on Fri 3rd Dec strictly between 1pm and 3pm.
Payment: All goods purchased must be paid for in full on day of auction to ensure collection on Mon 13th Dec strictly between 1pm and 3pm.

In the event of a dispute the Auctioneer reserves the right of settlement.

Please find copy of LSL Terms & Conditions here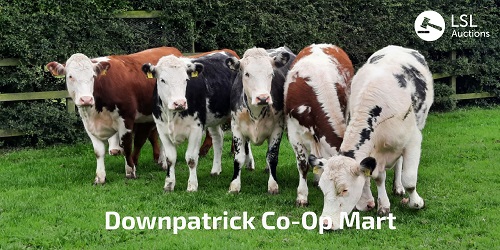 Contact Downpatrick Co-Op Mart Machinery Auctions