Carnew Mart Machinery Auctions
No live auction is currently running. Please check back later
Auction Dates
Next sale date to be announced
Please note:
- Live streaming is supported on latest version of Microsoft Edge, Google Chrome, Firefox web browser on desktop computer and mobile devices. If you are having issues, please try one of the supported browsers
- If your mobile is not registered with Carnew Mart Machinery Auctions, please call Carnew Mart Machinery Auctions on +353 53 942 6234 to set you up for online bidding.
- If you experience any technical issues or have any feedback for the system, please contact Carnew Mart Machinery Auctions and also let us know via email at ContactUs@lslauctions.com
Terms & Conditions
Important
Terms and conditions
– All items sold as seen unless otherwise stated by the Auctioneers.
– All bidders are deemed to have satisfied themselves by inspection or otherwise as to the description, size or quantities of any lot.
– There is no VAT on any items unless otherwise stated. If VAT docket available the hammer price will include VAT.
– Commission will apply to the hammer price as follows
1. Commission Rate of 15% up to €500, 10% €501 – to €1000, €100 between €1000 and €2000 and 5% over €2001
2. Some items maybe sold subject to owners consent if reserve price not reached.
– In the event of a dispute the Auctioneer reserves the right of settlement.
– All deposits held for bidders will be refunded 5 to 10 working days after the auction depending on the card holders bank. All Invoices to be paid in full to Carnew Mart.

Please find copy of LSL Terms & Conditions here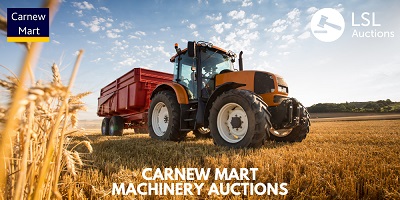 Contact Carnew Mart Machinery Auctions